John Marsh & Anne Winton
Post Office Box 777
Ketchum, Idaho 83340
208.788.0025
Kitchen
BLUESTAR PROFESSIONAL RANGE
DISHWASHER
HIGH-END FINISHES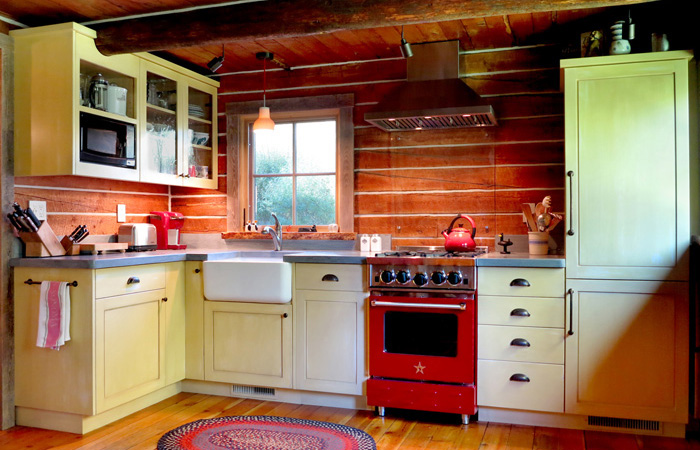 "We knew the Cabin was going to be unbelievable. But it was more unbelievable than we thought it could possibly be. This Cabin is unbelievably unbelievable!"
— Paul - Lancaster, Pennsylvania
"We leave with tears. So perfect in every way!"
— Barbi & Gary - Sausalito
"This storybook Cabin is so perfect! We thought the pictures on the website were great, but it's always a possibility it won't look the same when you show up. This place is even better in person! We can't wait to come back!"

How about this stunning, recently remodeled custom Kitchen? If you like to cook, you will love this Kitchen. If you chose not to cook, its so charming you might not ever leave the kitchen table in the morning after a fresh brew. Highlights are top-shelf appliances, sophisticated finishes, dimmable low-voltage European lighting, organic, natural materials and articulated details. The centerpiece features a 24" four-burner professional BlueStar all gas range & convection oven, a cooking lover's dream. The Energy-Star super quiet Blomberg Frig/Freezer and Bosch Dishwasher are both integrated into the wood cabinetry ... hand-painted, layered and patina'd a soft butter color. There is a Keurig coffee maker, and microwave oven for quick work. Finishing off this lovely kitchen is a Shaw's fireclay apron sink, hand-troweled concrete countertops, and hand-crafted, sand casted solid bronze hardware. This efficient working kitchen is like a boat, everything fits, and plenty of storage. You won't need any kitchen tools or small appliances ... this kitchen is fully stocked with utensils, cutlery, cookware, tableware, china place settings, cloth napkins, everything you'll need. Next to the kitchen is a built-in Pantry providing ample storage for provisions & dry foods. There is a Weber gas grille on the back patio for grilling.
The Cabin also has a new Blomberg Energy Star super quiet, automated Washer and Dryer. So pack light, bring less clothes, and wash your exercise garments or whatever you want, as often as you want.