John Marsh & Anne Winton
Post Office Box 777
Ketchum, Idaho 83340
208.788.0025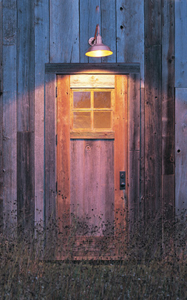 Our Barn came from the small village of Bradford, Vermont, located about mid point of the state in the wide fertile valley of the Connecticut River. In 2000, the owners of the farm sold the homeplace for the first time since their ancestors homesteaded the property in the 1700's. Our vintage barn frame was then dismantled, restored and reassembled in Sun Valley, Idaho by The Barn People of Windsor, Vermont - www.thebarnpeople.com. These craftsmen have been restoring splendid old barn structures since 1975, preserving precious historical buildings by finding new lives for them.
This barn is called a Yankee, or English Hay Barn and was built in 1820. The English hay barn was an early barn design built in the newly settled New England colonies prior to 1850 and is the most typical barn type dotting the Vermont landscape. Nothing could be more simple or modest in appearance and plan. The pleasing proportions & straightforward geometry of our three bay, English style barn have withstood the test of time and hard use.
The integrity of the precision joinery, executed by hands that took the time to do things right the first time, and hand washed timbers bound firmly together with wooden pegs will be obvious when you step inside. What they say about old Vermont barns is true … they're not making 'em like they used to. If you've always dreamed of staying in an old Vermont barn transformed into a wonderful living space, come see us !